Amazon, the largest e-commerce marketplace in the world, recently announced that it was closing its e-commerce business in China. In fact, a week ago, the company released a statement saying "We are notifying sellers we will no longer operate a marketplace on Amazon.cn and we will no longer be providing seller services on Amazon.cn effective July 18". Amazon also informed employees in China about the changes and said it would offer support to help them find new jobs.
Amazon bought its way into the Chinese market in 2004 by acquiring Joyo, the biggest Chinese online bookseller, for $75 million. "We're happy to be part of one of the world's most dynamic markets," Amazon's CEO, Jeff Bezos, said in a statement at the time. In 2008, Amazon's China market share was roughly 15.4 percent. The company then rebranded as Amazon China in 2011.
The company did not explain why it was closing its store in the largest e-commerce market in the world, but according to data, last year, Amazon reportedly has less than one percent market share in China, while Tmall (Taobao), which is owned by Alibaba, reportedly holds more than half the e-commerce market in China. The other significant players are JD.com and Suning.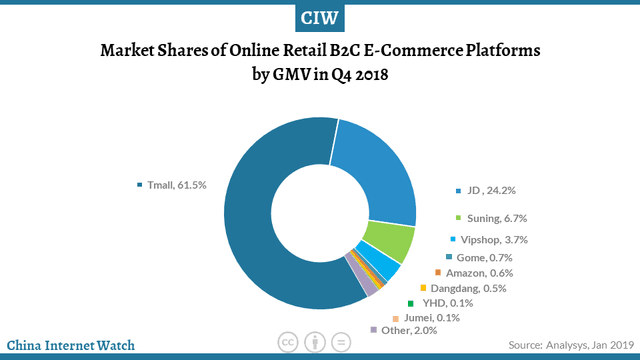 So, Amazon's decision to shut down its online business in China comes on the back of stiff competition from local e-commerce competitors.
However, It will retain its other operations in China, such as cloud computing services and Chinese shoppers will still be able to shop for items sold by international merchants in the US, UK, Germany, and Japan on its global store. The company will also continue to sell its Kindle e-readers and digital content to customers in China.
"Amazon's commitment to China remains strong. We have built a solid foundation here in a number of successful businesses and we will continue to invest and grow in China," the company added.
by Daniele Yang